16.02.2009
UNTIL 15TH OF MARCH – ANNUAL TAX RETURN FOR REALIZED INCOME IN 2008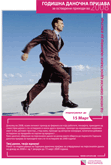 Citizens, as taxpayers of Personal Income Tax, are obliged to register the realized income during 2008 in the Public Revenue Office, by submitting the Annual Tax Return ("PIT – ATR" form).

*The tax returns are submitted from 1st of January 2009 latest to 15th of March 2009 when the legal deadline for submitting the form ''PIT – ATR" expire. You can deliver the Annual Tax Return in the tax offices of the Public Revenue Office or by mail.

Annual Tax Return has to be submitted by citizens/residents of the Republic of Macedonia for the realized income in the country and abroad.


The Personal Income Tax is paid once per year on the sum of the net income from all sources, except the income exempted by taxation. The income realized in 2008 is taxable at the rate of 10%.

The citizen, who realizes income only from salary, pension, self-employed or agricultural activity, is not obliged to submit Annual Tax Return.
The Annual Tax Return in any case submits:
Taxpayers who realize personal income from abroad
Taxpayers who realize personal income from diplomatic or consular representations of foreign countries, at representatives and officials who enjoy diplomatic immunity and who assess and pay the tax by themselves.
Those taxpayers who will not submit tax return in the determined deadline, it will be issued a fine for misdemeanor in the amount of 500 to 1000 euros, in denar recompense.
Public Revenue Office appeals to the citizens their own obligation to comply before 15 March, in order to avoid chaos in the tax offices in the last days before the time expiration for submitting Annual Tax Returns.

Look at "PRO statistics" for the number of submitted Annual Tax Returns in the previous years.